Glacier Dash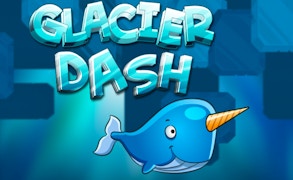 Glacier Dash
Description
In Glacier Dash, you dive into an incredible underwater world filled with obstacles, adventure and hearty meals. Embark on an epic journey with your trusty narwhal companion, navigating through tumbling ice blocks and feasting on plentiful fish. The game offers an addictive mix of precision control, speed, and strategy. This thrilling ARCADE STYLE game will keep you on the edge of your seat.
How to play
The one-touch control system makes playing Glacier Dash a breeze. Simply tap or click to guide your narwhal around the screen. Your objective is to eat as many fish as possible while avoiding the falling ice blocks. Speed and precision are key in this game - rush past obstacles and make split-second decisions to earn higher scores.
Tips and Tricks
The secret to mastering Glacier Dash is getting familiar with the movement patterns of the tumbling ice blocks. Stay attentive and anticipate their movements to avoid collisions. Collecting more fish not only increases your score but also increases your narwhal's speed, allowing you to dodge obstacles more effectively.
Features
Intuitive one-touch controls: Easy for anyone to pick up and play.
Addictive gameplay: Fast-paced action that will keep you coming back for more.
Epic underwater adventure: Navigate through dangerous ice blocks and devour tasty fish in a beautifully rendered environment.
Arcade Style: Offers an exciting throwback to classic gaming experiences.
What are the best online games?