Giant Rush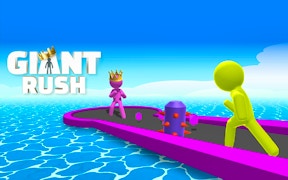 Giant Rush
Get ready to lace up those virtual sneakers because it's time to hit the ground running with Giant Rush, the latest and greatest in running games. With a colorful twist on this tried-and-true genre, it's a hyper-casual experience that pulls you in and doesn't let go!
Famed for its infectious charm, Giant Rush bravely swims against the current. It's not your conventional stickman game; it instead takes its stand on the funnier side of gaming. The goal? Control and move this wacky character as you dodge, weave, and hurdle over various obstacles on your path — a task easier said than done.
All hail to the creative genius who brilliantly incorporated elements of coloring games into this fast-paced arcade adventure! Every successful run leaves behind a trail of vibrant colors, turning what would be a standard sprint across the terrain into an explosion of hues. The blend of heart-pounding running and rainbow-bright coloring makes each moment in Giant Rush more thrilling than even some battle games.
The genius of Giant Rush is not merely in its unique fusion of genres, but also in its simplicity. It doesn't overwhelm with complex mechanics or intricate storylines. Instead, it's all about delivering pure fun — easy to pick up but hard to put down! Whether you're navigating sticky obstacles or indulging in a spontaneous color fest, every encounter feels new and exciting.
In conclusion, Giant Rush is an enthralling blend of speed, color-spattering fun, and nail-biting challenges. It transcends traditional running games, making a compelling case for being one of the most entertaining games currently available. So if you're looking for your next arcade addiction, look no further than Giant Rush!
What are the best online games?