Gangster Shooting Police Game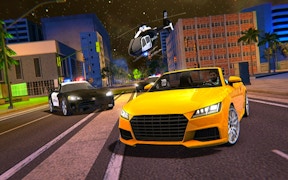 Gangster Shooting Police Game
Prepare to dive into the exhilarating world of Gangster Shooting Police Game, an action-packed fusion of car-games, driving-games, and gangster-games. As the title suggests, this game doesn't pull any punches. You're thrown right into the gritty underworld of a city under siege by rival gangs and a determined police force. The clock is ticking, and your mission, should you choose to accept it, will test your mettle under pressure.
In this open-world simulator-game, you have complete freedom to make your own decisions. You could conduct a high-speed chase through the city streets in a stolen supercar, honing your skills as part of the thrilling police-games mechanics. Or perhaps you'd prefer to venture off-road, exploring the untamed wilderness in the mountains that act as an escape from the chaotic urban warfare down below.
The bruiser might of mafia gangsters from various backgrounds form the backbone of character interaction in this game. You'll need quick instincts and an even quicker trigger finger to protect yourself and your crew in this ruthless gun-game. Be prepared for intense gunfights that make every second count!
Gangster Shooting Police Game's element of danger never lets up, but neither does its sense of fun. Every mission feels like an adrenaline-fueled joy ride teetering on the edge of disaster - just like being a real gangster. The blend of freedom and chaos, woven together with thrilling escapades makes it one compelling action-shooter game.
This is not just another game; it's an invitation to step into the shoes of a gang-head and let loose in a city where laws are mere suggestions. Just bear in mind that behind the excitement and thrill, there lies the danger of rival gangsters and the ever-watchful police force. So buckle up and get ready to live or die in the Gangster Shooting Police Game.
What are the best online games?