Free Zombie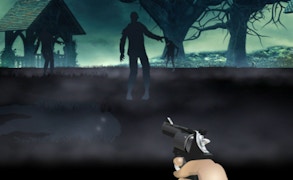 Free Zombie
Dive into the post-apocalyptic world of Free Zombie, a thrilling concoction of gun games, sniper games, and zombie games. This game cleverly unites the thrills of a shooting game with the eerie atmosphere of scary games.
In Free Zombie, you're humanity's last hope in a world overrun by the undead. As a survivor, you're armed with an abundance of weapons to help you crush your way through relentless hordes of walking nightmares. Your mastery over gun games will be put to the ultimate test.
One standout feature is the sniper games aspect. Unlike most zombie games, Free Zombie enhances the experience by rewarding long-range precision. Take your position and clean out areas infested with zombies, one headshot at a time. You will feel like a true sniper as you cover your team from vantage points and take down these terrifying creatures before they even see it coming.
Another twist in gameplay that deserves mention is its essence of battle games. The game pushes you right into chaotic maelstroms where every bullet counts. Here your gaming skills will be truly tried and tested against swarm after swarm in an all-out war for survival against the undead.
A strong element throughout Free Zombie is its chilling undertone that fans of scary games will appreciate. From bone-chilling growls to fittingly grim backdrops, this game ensures tension runs high throughout.
To sum it up, Free Zombie masterfully combines elements from gun games, sniper games, battle games and scary games into one action-packed zombie game that keeps you on your toes. Its gameplay variety ensures there's something for every gamer seeking adrenaline-pumping action mixed with spine-chilling horror.
What are the best online games?