Fractal Combat X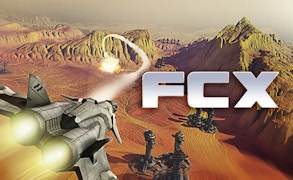 Fractal Combat X
Jet planes are pretty cool but most of us will never get the chance to fly one which is why we need to rely on games like Fractal Combat X. Many films and games have done their best to show what it would be like to fly super fast in a jet while also fighting against other enemy jets. This game dials it back a bit so that we can process all of that power. You are working for a futuristic force specializing in aerial missions taking place on another planet. You've got all the power and speed that you need in order to succeed.
About Fractal Combat X
It's not in human nature to go super fast and that's why we as a species are incapable of doing so on our own. That's why we created vehicles, not just to get us places, but to allow us to reach speeds that we never thought we could. This game is a recreation of that goal since jets are considered the fastest vehicles on the planet. Of course, they come with a lot of responsibility and require tons of skill, but that's why it's a game. It functions well to let you pilot a variety of jets through open and unfamiliar skies.
How to Play
Fractal Combat X is a 3D flight combat game that can use either the mouse or keyboard. However, since the onscreen UI can be cumbersome, a keyboard is recommended.
Controls
W/Up Arrow - Ascend (Descend if inverted)
S/Down Arrow - Descend (Ascend if inverted)
A/Left Arrow - Steer Left
D/Right Arrow - Steer Right
Spacebar - Shoot Missiles
As a pilot, you'll be taking on numerous missions in a jet of your choice (provided you have enough credits). Each mission revolves around flying and shooting down targets with the mission being completed once all targets have been eliminated. The targets will be indicated by green arrows around the edge of your crosshairs. When a target is in view, it'll be highlighted with a green marker. Keep them in your sights until a lock on has been confirmed and then fire your missile. Be warned that targets can fire back at you and these missiles will be indicated by red arrows when they're not onscreen. If your jet takes too much damage, you'll be shot down and have to start the missions again.
Completing missions earns you credits which can be spent while you're in the lobby screen. You can save for a new jet listed in the shop, each having its own strengths and weaknesses. You can also spend money to upgrade your current jet. You can upgrade the Engine to improve speed, the Missiles to improve power, the Control to improve movement, the Armor to improve defense, and the Electronics to improve capacity.
When choosing missions, you can choose between Story, Quick Play, and Daily. The Story and Quick Play will always be available as a way to start playing and earn credits quickly. Daily missions will cycle but will also have requirements to play them such as having a certain type of jet with certain upgrades.
Tips and Tricks
In this type of scenario, the pilot who loses sight of their target will lose. Fly in various patterns to keep missiles from hitting you and aim to keep multiple targets on your screen. If they fire at you, dive when the missiles get close enough.
Game Details
Developer: OYK Games
Platforms: Web Browser (PC and mobile) and Android
Languages: English

Gameplay Footage
FAQs
Is Fractal Combat X available on iOS?
It appears that OYK Games aren't the only ones responsible for expanding the game's capability since there is a version on iOS provided by NEWTYPE K.K.
Games similar to Fractal Combat X
With all these jets and flying, this title is put into the War and Fantasy Flight Games categories on GamePix. It appears alongside other games such as Vangers, Army Force Combat, Far Orion, and Duelers.
What are the best online games?