Forge Ahead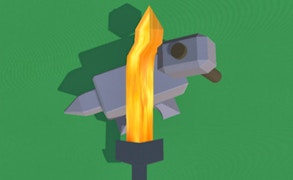 Forge Ahead
Step into the world of blacksmithing with Forge Ahead, a captivating action-packed clicker game. With a unique blend of skills and strategy, this game takes you through the thrilling journey of molding molten metals into mighty swords. Whether you're a fan of sword games, tap games, or you like the satisfaction that only clicker games can deliver, Forge Ahead is a treasure trove worth exploring.
The game's mechanics are as simple as they are addictive: tap on the screen to hammer iron, bend steel, and shape them into formidable blades. As a ball game, Forge Ahead employs precision and timing making every strike count towards crafting lethal weapons. Each sword is a testament to your skill, patience, and judgement as an in-game blacksmith.
The compelling tagline - build swords, save money, upgrade equipment - perfectly encapsulates what Forge Ahead is all about: progress. By selling your hand-crafted swords, you earn money which can then be used for crucial upgrades. With each upgrade, your smithy grows, making it possible to forge even more intricate and powerful weapons.
The game's design is brilliantly intuitive and its visuals are impressively immersive. The pounding sounds of metal meeting hammer sync perfectly with each tap on your screen adding an exciting level of realism to the blacksmithing process.
In conclusion, Forge Ahead offers a unique spin on the traditional action clicker games. It's more than just mindless tapping; it's about strategic decisions, perfect timing and constant progression. If you've ever had dreams of being a virtual blacksmith or simply love sword games with a twist, Forge Ahead is definitely worth downloading.
What are the best online games?