Fly SmasherZ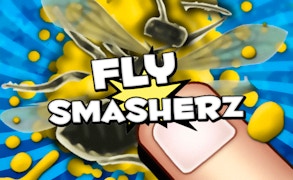 Fly SmasherZ
Description
In Fly SmasherZ, you are tasked to eliminate all the pesky flies that buzz across your screen. But be careful, if they escape your fingers, you lose one of your three lives. Test your reflexes and dexterity in this endless action-packed game where a single misstep could lead to a deadly consequence – never tap the red fly!
How to play
Play Fly SmasherZ by simply tapping on the flies as they swarm across the screen. Yet, timing and precision matter; if a fly slips past you, it takes away one life. Lose all three, and it's game over. Above all, avoid clicking on red flies at all costs as they are extremely dangerous!
Tips and Tricks
Stay alert in Fly SmasherZ, where speed is key! Don't rush – carefully pick your targets to maximize efficiency and avoid penalties. The dangerous red flies often blend with others, so stay vigilant and keep an eye out for them.
Features
A perfectly entertaining game for kids that develops their hand-eye coordination.
Infinite gameplay promoting hours of engrossing fun.
Straightforward controls provide an ease of play.
Pleasant 2D visuals ensure an immersive gaming experience.
A relaxing natural ambiance soundtrack guarantees enjoyment at every game session.
An array of amazing animations makes every tap satisfying.
What are the best online games?