Fly Ghost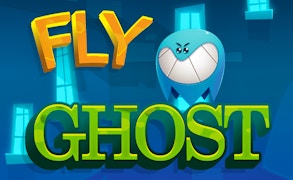 Fly Ghost
Description
In Fly Ghost, you step into the ethereal shoes of a ghoul, navigating a tricky landscape filled with obstacles. The aim of this engaging arcade game is to fly your ghost carefully through tight spaces between pipes without touching anything. It's simple, but it tests your skills and reflexes in an exciting and fun way.
How to play
To control your ghost, you just need to click or tap on the screen. The frequency of your taps determines how high or low your ghost flies, and how fast it lands. Be careful to time your clicks perfectly as one wrong move can lead to a crash into the pipes, ending the game.
Tips and Tricks
Success in Fly Ghost is all about mastering timing and rhythm. Practice tapping at different rates to get a feel for how it affects your flight height and speed. Also, stay focused on upcoming pipes. Anticipate their placement and adjust your flight accordingly.
Features
Simple Controls: Just tap or click on the screen.
Addictive Gameplay: Easy to start but hard to master!
Rhythmic Flow: The game requires timing and rhythm to successfully fly through obstacles.
What are the best online games?