Flappy Poppy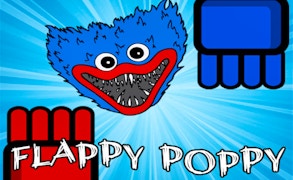 Flappy Poppy
Description
Welcome to the thrilling world of Flappy Poppy, an addictive arcade game that keeps you on the edge of your seat. Assemble your reflexes and coordination skills to navigate Poppy, a lovable monster, through dangerous paths lined with robotic hands. Your mission? Avoid these menacing obstacles while collecting coveted medals and striving to break your own high scores. Flappy Poppy guarantees relentless fun and excitement!
How to play
The controls in Flappy Poppy are straightforward - a single tap sends Poppy flying upwards. The challenge lies in maintaining a rhythm of taps that will keep Poppy at just the right height, avoiding obstacles while collecting medals. Each successful run increases your score, providing endless opportunities to beat your personal record.
Tips and Tricks
Patience is the key in Flappy Poppy. Time your taps accurately as erratic movements can lead to touching robot hands. Also remember that flying too high or low is equally dangerous. Strive for balance, collect as many medals as possible for higher scores, and most importantly - enjoy!
Features
Addictive gameplay: The simple yet challenging mechanics make it hard to put down.
Skill-based progress: The more you play, the better you get! Watch your skills improve over time.
High-score system: Keeps track of your best scores – always giving you a new goal.
Cute graphics: Adorable monster character and engaging visual effects add to the gaming experience.
What are the best online games?