Find and Draw DOP Hard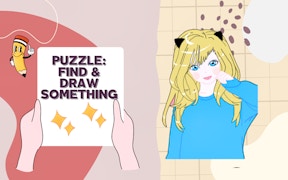 Find and Draw DOP Hard
Description
In Find and Draw DOP Hard, challenge and sharpen your intellect in this delightful, DOP-style puzzle game. Put your observational skills to the test as you discern the hidden elements within each evolving scene. You then take on the artist's role, drawing the missing object directly onto the images. Each level challenges you more, pushing your brainpower to its limits!
How to Play
Simply observe the provided image closely to find hidden objects. After identifying what's missing, use your finger to draw it back into the scene correctly. Your success depends upon how well your additions mesh with the original scene. In case of difficulties, use a hint that reveals a part of the hidden element, easing your task of sketching the missing detail.
Tips and Tricks
Keep an open mind and don't be afraid to make mistakes - they can often lead you to the correct solution! Remember, persistence is key in solving puzzles. Use hints sparingly since they're limited but extremely helpful when stuck.
Features
The game is completely free, making it accessible to everyone.
Presents unique puzzles that progress in difficulty.
Easily controllable by simply drawing directly onto the screen.
Available for offline play, so enjoy it anywhere at any time.
Cultivates creativity and logical thinking through engaging gameplay.
What are the best online games?