Draw Save Puzzle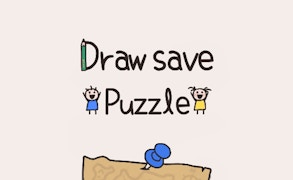 Draw Save Puzzle
Description
In Draw Save Puzzle, you advance through a 2D world, solving unique and challenging problems. This puzzle game involves strategic thinking and creativity to rescue the Stickman from danger. Use your drawing skills to create lines or shapes, using logic to guide your Stickman to safety. Each level brings a new challenge, ensuring hours of engaging gameplay.
How to play
Playing Draw Save Puzzle is quite simple. You can draw lines on the screen using your mouse or touchpad. Guide your Stickman by drawing solutions to the puzzles presented. Complete each level by safely leading Stickman out of danger, moving on to the next, increasingly difficult stage.
Tips and Tricks
The key in Draw Save Puzzle is creative problem-solving. Don't be afraid to try different solutions if the first attempt doesn't work out. Pay attention to the surroundings and use them to create a safe path for the Stickman.
Features
Besides its simple yet captivating gameplay, Draw Save Puzzle offers notable features:
Variety of puzzles: Each level presents a different challenge.
Creativity: Use your drawing skills in inventive ways.
Skill development: Boost logic and problem-solving abilities as you progress.
Achievements: Earn rewards as you solve increasingly tricky puzzles.
What are the best online games?