FeRut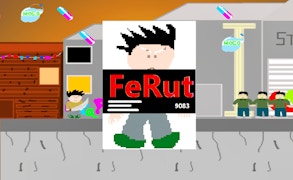 FeRut
Description
In FeRut, players are immersed in the world of a once ordinary man whose life is flipped upside down after a fateful encounter with enigmatic strangers. Plunge into the thrilling realm of survival action-fighting, where every decision matters and every move counts. Your virtual character, Fe Rut, is now compelled to confront and conquer his biggest fears as he engages in tireless fights against horrifying opponents.
How to Play
To successfully navigate through this addictive game, use your keyboard arrows for movement and spacebar to attack. The game progresses as you steadily clear levels, each fraught with more challenging opponents. Remember, clever strategy and relentless fighting are crucial for survival. Learn to intuit your enemy's moves and strike when they least expect it.
Tips and Tricks
Survival in FeRut hinges on your ability to balance offence and defence. Don't rush into battles thoughtlessly; instead, study your enemy's pattern before striking. Use your surrounding environment cleverly to gain an advantage. Lastly, remember that survival is about endurance - don't waste all your energy at the start.
Features
A beautifully designed pixel-game world that offers immersive gameplay.
An intriguing storyline that grips the player from the get-go.
A vast array of terrifying enemies offering different levels of challenges.
A well-balanced combat system that demands strategic decisions.
A horror-survival game laced with adrenaline-pumping fighting sequences.
What are the best online games?