Fatty Ken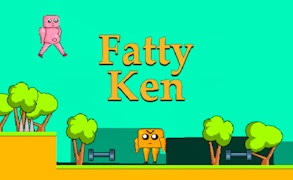 Fatty Ken
Description
In Fatty Ken, you embark on an adrenaline-filled 2D platformer journey. The game is designed around a character who needs to collect dumbbells while dodging numerous obstacles that include enemies, ground saws, and spikes. You must reach the finish flag to progress to the subsequent level. With a total of 8 challenging levels, the game increases in difficulty as you continue.
How to play
Navigate the game using either "WASD" or "Arrow" keys. Use "W" or "Up" arrow key twice for a double jump, this will help you avoid obstacles and collect dumbbells. Each level concludes when you reach the finish flag, allowing for progression to the next level.
Tips and Tricks
Mastering the double jump is crucial in Fatty Ken as it aids in avoiding obstacles and acquiring hard-to-reach dumbbells. Staying alert of your surroundings can help anticipate enemy movements and traps, making it easier to traverse through each level effectively.
Features
Challenging obstacles: Avoid enemies, ground saws, spikes while progressing through 8 demanding levels.
Dual control setup: Choose between "WASD" or "Arrow" keys for movement flexibility.
Double-jump mechanism: Use the double-jump feature wisely to dodge hazards and collect dumbbells more efficiently.
In-game Progression: Reaching the finish flag enables progression to next level with increased difficulty.
What are the best online games?