Fashion Battle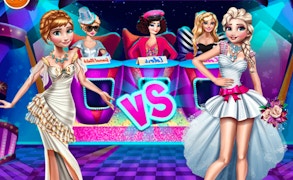 Fashion Battle
Step into the glimmering world of fashion with the innovative Fashion Battle game where creativity meets competition. As far as dress up games, fashion games, and games for girls go, Fashion Battle stands tall in the league.
This fashion-forward game takes you on an exhilarating journey, challenging you to style our darling princesses for a grand Fashion Wedding Dress Event. Yes, it's not just a regular dress-up game, but a high-stakes style showdown where you are the star-studded stylist.
In Fashion Battle, innovation is encouraged and creativity is rewarded. Prepare to pit our two royal sisters against each other in a dazzling duel for the title of fashion queen. Your task? To make them shine brighter than a diamond under the spotlight of the coveted Fashion Gala. As you explore this engaging installment among Princess Games, you'll discover that the secret weapon is your unique sense of style.
The magic of this game extends far beyond just picking out dresses from an extensive wardrobe. It's a strategic gameplay that requires artistic vision, understanding of fashion trends, and quick decision-making skills under pressure. Every choice you make in this dress-up challenge can decide who reigns supreme at the end of this intense fashion battle.
To sum it up, Fashion Battle embodies all the glitz and glamour typically associated with fashion games, while offering an extra layer of strategic play that truly sets it apart from other games for girls. So grab your virtual stylist tools and get ready to conquer the world of high fashion — one princess at a time!
What are the best online games?