Farmington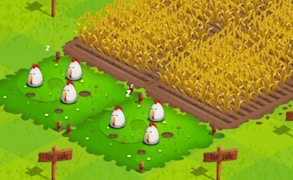 Farmington
Dive into the world of strategy, management, and green pastures with Farmington, the game that's fast creating ripples in the realm of farm games. If you've ever played a building game and found satisfaction in seeing your efforts bear fruit (quite literally), this game is the much-needed addition to your gaming arsenal.
Intricately detailed and incredibly engaging, Farmington is more than your average farm game. It isn't just about planting crops and watching them grow; it's about managing resources, juggling tasks, making strategic decisions, and creating your own unique version of agricultural bliss.
This is where Farmington stands tall among farming simulators. Where most games emphasize planning and building, this game actually makes you feel like a real farm manager — making crucial decisions, dealing with the unpredictability of nature, juggling tasks with caution and precision.
You will find yourself trading resources at the lively local market, dealing with familiar farm animals, and even engaging in friendly competition with neighbouring farmlands. Each animal game aspect within Farmington adds an extra layer of complexity to the gameplay, ensuring that every session presents a new set of challenges.
With its easy-to-understand mechanics coupled with subtly complex gameplay strategies required for efficient management growth, Farmington rises above its contemporary building games. Fun visuals coupled with engaging sounds make for a fantastic gaming aesthetic that keeps players engrossed for hours on end.
Management games have always been a favorite among gamers who enjoy strategy-based gameplay,and Farmington skillfully delivers on all fronts. So whether it's relaxing after a long day or competing against fellow gamers around the globe - dive head-first into the captivating reality of farming life with Farmington.
What are the best online games?