Farming Simulator Game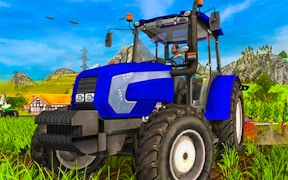 Farming Simulator Game
Get ready for a sensation like no other with the alluring Farming Simulator Game. This game, brimming with an amalgamation of farm games, simulator games, truck games, and building games, offers an immersive experience that transcends the boundary between reality and virtual play.
Dive into the world of Modern Tractor Farming Simulator Games where you are at the helm of your destiny. It encapsulates the true essence of rural life while letting you manage farm resources, providing an authentic take on Management Games.
In this game, you step into the shoes of a bona fide farmer living in the countryside. The game doesn't merely stop at letting you till land and sow seeds. The developers have ingeniously incorporated elements of truck games, enabling players to partake in heavy-duty tractor cargo drives to transport agriculture machines from city to town.
Every frame is painstakingly detailed, breathing life into the lush landscapes that provide a realistic farming ambience. The narrative is compelling; it provides valuable insights about agricultural urban-rural interdependence, transforming this simulator game into a gripping adventure.
The intricacies involved in managing resources and building farm systems make it a rewarding experience for those who are inclined towards strategy-based building games. The crux of the game lies in its ability to balance between farming tasks and transportation duties.
Farming Simulator Game is not just another addition to the ever-growing list of farm games; it's a stunning masterpiece that reigns supreme in its portrayal of traditional farming practices coupled with modern-day logistics management.
If you love thrill-infused adventure tangled with strategic gameplay, then Farming Simulator Game should be your next go-to gaming escapade. Step within this enchanting rural realm and steer your virtual farming journey towards success today!
What are the best online games?