Farming Missions 2023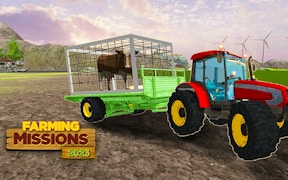 Farming Missions 2023
Welcome to the world of Farming Missions 2023, a thrilling fusion of farm games, truck games, driving games, building games, and simulator games that brings farming and heavy construction to life in a sprawling village landscape. This adventure simulator is an enticing blend of varied game modes, swarming with engaging missions and thrilling races.
Unleash your adventurous spirit in the single player mode or bring your gaming companion along in the two-player mode. The mission mode is no ordinary farming game. It demands you to employ skills of strategy, control, and timing. Be it carrying missions with heavy-duty construction machines or challenging yourself with the race mode against formidable construction behemoths, each mission is crafted to keep your adrenaline pumping.
The Farming Missions 2023 game masterfully combines elements of truck games and driving games. Savor the power behind the wheel as you traverse through the massive farming town navigating various vehicles. In addition to this, revel in the sheer delight of victory as you outpace competitors to reach the finish line first.
The free drive and building aspects add an additional layer of complexity and engagement to this exhilarating game. The dynamic environment coupled with realistic simulation makes it one of the most captivating building games.
In conclusion, Farming Missions 2023, with its immersive gameplay and diverse collection of game modes, ensures a visceral gaming experience. Its perfect amalgamation of multiple genres provides an unparalleled depth that will undoubtedly leave both solo players and co-op gamers yearning for more.
What are the best online games?