Farm Day Village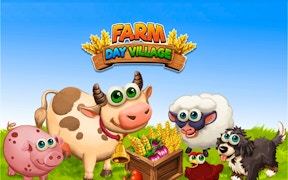 Farm Day Village
Welcome to my review of Farm Day Village, a gem among strategy farm games that will engross both novices and connoisseurs of management games. Revel in the bucolic simplicity of farm life while indulging in intricate gameplay mechanics typical for city building games.
Farm Day Village allows you to construct your utopian farm in the heart of the Middle Ages, an era often revered yet seldom explored in gaming. The game instills a profound sense of satisfaction as you administer your farm, harvest crops, and trade goods, reinforcing your agricultural base. The game's diversity is noteworthy, offering a spectrum of crops such as corn, wheat, cotton, hay and canola which you must nurture from seedling to robust harvest.
Unlike most generic building games, Farm Day Village invites players onto a journey through time – not just building lanes of corn but shaping an era. As such, this game can be considered an educational experience encapsulated into a fun-loving strategy game.
Fans of animal games aren't left out either. Alongside cultivating crops, players are entrusted with tending to various countryside animals - forging another layer to the deep management simulation. Balancing crop production with animal husbandry forms the crux of this farming experience, demanding astute decision-making.
In conclusion, Farm Day Village is more than just a conventional agriculture-centered game - it is a delightful mixture of history and strategy which forces you to manage resources efficiently while honing your decision-making ability. The intuitive controls coupled with soothing visuals make this title standout among other farm games. Harvest the fun in this wholesome experience playing Farm Day Village!
What are the best online games?