Fantasy Battles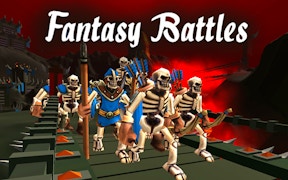 Fantasy Battles
Immerse yourself in the magical world of Fantasy Battles, a seamless blend of various gaming facets; from being an enchanting embodiment of knight games and thrilling war games, to a perfect mix of management and battle games. It allows players to leverage strategic thinking and tactical execution, carving a niche for itself in the pantheon of strategy games.
The game stands tall as a unifying force of classic elements like sword games and innovative features such as an intricate, responsive control system. Navigate with WASD or arrow keys and rotate your perspective with the right mouse button. The selection and deployment of units are facilitated by the left mouse button. This game makes you feel every sword swing, each arrow shot, enhancing its credentials as one of the most interactive archery games.
The thrill intensifies as Fantasy Battles morphs into a deadly game of chess against an army of undead, necessitating clever management choices, thus earning its merit among top-notch management games. The monster battles evoke an adrenaline rush unmatched in most monster games, with every victory feeling like a triumphant roar.
Fantasy Battles epitomizes the artistry developers can achieve when they interweave various genres like knight, war, management, battle, sword, archery, and monster games. Engage in this immersive gameplay that unfurls an addictive narrative packed with cinematic battles against undead foes.
Saddle up for Fantasy Battles' mesmerizing journey into realms unknown; where strategy reigns supreme, bold knights lock horns with monstrous adversaries, arrows find their mark, and victories are hard-earned but oh-so-sweet.
What are the best online games?