Family Nest - Royal Society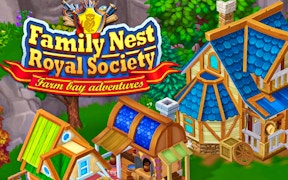 Family Nest - Royal Society
Welcome to the breathtaking realm of Family Nest - Royal Society, a riveting blend of adventure, building-games, and farm-games genres, with a touch of mmorpg-games. In this mesmerizing open-world adventure, you are entrusted with a farm in the remote Willow Hills by an unseen relative. The challenge lies not only in proving your worth as the rightful heir but also uncovering the real motive behind this unexpected inheritance.
The central story plot is fascinatingly engaging as it knots together family secrets, silent whispers of Willow Hills, and your journey to becoming a successful farmer. The game sets you off on an enthralling adventure that's as intriguing as peeling layers from an onion; every task completed reveals a new layer of the captivating storyline.
The game mechanics are creatively woven around the core elements of building and farming. Each farming plot grown, every barn built, each livestock nurtured not only adds to your portfolio but also unravels another piece in the complex puzzle. The mechanism used by Family Nest - Royal Society allows players to shape their farming empire while enjoying an immersive RPG experience.
An important highlight of Family Nest - Royal Society is its buoyant online community that elevates it from mere farm-game to a bustling MMORPG. This feature empowers players to form societies, trade surplus commodities, collaborate on tasks, and foster friendly rivalries. An excellent platform for social interaction amidst gaming!
To wrap it up, this masterfully crafted game offers ingenious gameplay by subtly infusing building-game strategies into a farm setting while dovetailing it into a grand narrative. With its rich tapestry of characters, crisp graphics and animations, and thrilling plot twists, Family Nest - Royal Society is an enthralling odyssey worth embarking on!
What are the best online games?