Family Farm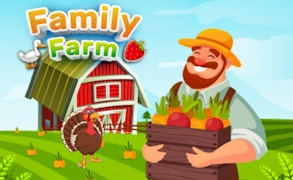 Family Farm
Immerse yourself in the undeniable charm of Family Farm, an engaging mix of farm games, management games, and building games. In this captivating world, you step into the boots of a fledgling farmer aiming to transform a basic plot into an agricultural marvel.
The game kicks off with nothing more than a vacant lot and seed. Planting this seed is your first interaction, marking the start of your journey as a virtual farmer. The mechanism is simple: buy a plot, purchase seeds from the shop, and set them down on your plot. Admittedly based on the well-loved mechanics of clicker games, Family Farm takes this genre to new lengths by incorporating strategic elements that will engage both seasoned gamers and casual players alike.
The seeds then bloom into crops within a set production time. Once they're ripe for the picking, you'll need to sell your crops to pave the way for new ones. This adds an interesting dynamic to your strategy: Should you wait for another harvest, or sell now and plant anew? This keeps every gaming session fresh and thrilling, qualifying it undeniably as one of those superbly addictive fun games.
To spice things up, there's also an upgrade system for your crops. Upgrading them boosts their productivity, injecting another layer of strategy into this seemingly simplistic farming game. So whether you're an ardent fan of animal games, or just someone who enjoys growing virtual crops - Family Farm provides a captivating gaming experience impeccably optimized for fun.
In conclusion, Family Farm perfectly blends elements from various genres namely farm, management and building games with clicker mechanics to craft a unique gaming experience that's hard to put down. It's more than just a farm game - it's about managing resources wisely, upgrading strategically and making decisions that could tip the balance between profit and loss. A thoroughly rewarding journey awaits all who dare tread this path!
What are the best online games?