Fairyland Merge & Magic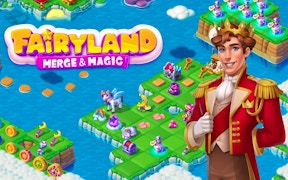 Fairyland Merge & Magic
Welcome to the enchanting world of Fairyland Merge & Magic, a game that redefines the strategy genre. It treads a unique path, veering away from classic city-building and farm games, and taking a deep dive into a realm of mysticism and adventure.
Undeniably, Fairyland Merge & Magic should be on every gaming enthusiast's list. It's not just one of those monotonous dragon games. You get to merge not just dragons but a potpourri of mythical creatures including unicorns and leprechauns. The game lets you own your virtual dragon farm, birthing an alluring merge world dictated by your rules!
This game thrives in its ability to deliver familiar characters in fresh, thrilling circumstances. The narrative strength lies in its plot - an intriguing main story coupled with riveting side quests. As a player, your interest is constantly piqued with the promise of countless new lands to explore and exciting discoveries to make.
Adding another feather to its cap, Fairyland Merge & Magic offers fantastic merge puzzle quests that challenge your strategic abilities while ensuring substantial rewards await successful completions.
Are you a fan of match-3 games? Do you relish the novelty of city-building? Then this game is perfect for you! Welcome to a revolution in strategy gaming – the mergical experience that combines the thrill of match-3 with the real-time strategic planning prevalent in city-building games.
If free merge games and discoveries whet your gaming appetite, then Fairyland Merge & Magic is indeed 'once upon a merge' experience that will have you spellbound! So why wait? Dive right into this amalgamation of strategy genres where every merger brings forth magic and adventure!
What are the best online games?