Extreme Fast Pixel Bullet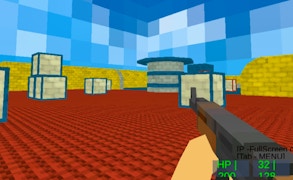 Extreme Fast Pixel Bullet
Imagine the exhilarating rush of adrenaline coursing through your veins as you launch into a high-stakes, pixelated battleground. That's the feeling you are gripped with when you step into the digital arena of Extreme Fast Pixel Bullet . As a harmonious blend of gun games, pixel games, battle games, war games, and survival games, this explosive FPS offers an undisputed immersive experience that leaves even the seasoned gamer positively thrilled.
At the heart of Extreme Fast Pixel Bullet is an innovative Minecraft-style graphic design that transports you into a unique 3D pixel universe – deceptive in its simplicity yet intricate in its gameplay mechanics. Whether you're a fan of intriguing pixel games or intense gun games, this title melds together the best aspects of both genres to create an unforgettable gaming experience.
Crafted to quench your thirst for intense war games and battle games, Extreme Fast Pixel Bullet plunges you into a battlefield where boys square off against girls in teams. What makes it stand out from other survival games is that it grants you the liberty to choose from four devastating weapons to decimate your opponents. From strategic ambushes to spectacular headshots, every confrontation in this game brings with it a sweet taste of victory or a lesson smeared with gunpowder.
The game's diverse array of battle environments keeps things fresh and adrenaline-fueled throughout. These locations serve as your chessboard as you plot your path to triumph in these captivating war games.
To sum it up, Extreme Fast Pixel Bullet is not just another addition to the crowded genre of shooting games; rather, it stands tall as an unprecedented amalgamation of gun games, pixel games, and survival games. It is an epic battlefield that pushes you to outlast your opponents and survive till dawn. This game isn't just about surviving - it's about thriving amidst chaos.
What are the best online games?