Evil Space Base FPS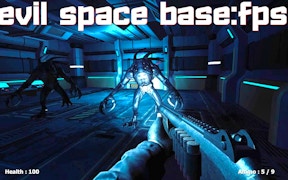 Evil Space Base FPS
Description
In Evil Space Base FPS, you're thrust into a chilling sci-fi horror adventure, assuming the role of a space patroller tasked with investigating an ominous base on a distant planet. Discover the terrifying secrets that lie within the base, navigating its eerie corridors and battling for survival. The game offers an immersive experience with its atmospheric environments and intense action sequences.
How to play
To control your character, use the typical FPS controls: WASD keys for movement and the mouse to aim and shoot. Equip yourself with weapons found in the space base as you venture deeper into it. Always stay alert - you never know when danger might appear. Progress in the game is achieved by overcoming enemies and solving puzzles to unlock new areas within the base.
Tips and Tricks
Keep your eyes open for hidden passages or rooms - they can contain useful items or lore-enhancing details. Ammo can be scarce, so make sure each shot counts. Use your surroundings to your advantage, like using cover or initiating surprise attacks. Most importantly, don't let fear impede your progress!
Features
Stunning graphics: Detailed and atmospheric environments immerse players in this chilling sci-fi world.
Action-packed gameplay: Combining shooting and horror elements provides a thrilling gaming experience.
Suspenseful Story: The game's narrative, though simple, keeps players engaged and eager to discover more.
Ambient Sound Effects: Enhances the horror atmosphere making it more intense.
What are the best online games?