Evil Nun Schools Out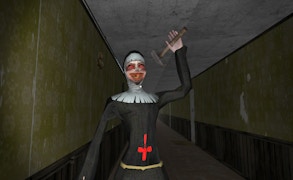 Evil Nun Schools Out
Are you a fan of escape games, with a dash of horror and a sprinkle of suspense? Well, allow me to introduce you to Evil Nun Schools Out, an action-packed adventure that's sure to get your pulse racing. This isn't one of your garden-variety scary games, it's much more than that.
The premise is deceptively simple. You're in school, after hours, in detention. But this isn't just any ordinary detention - there's an evil nun watching your every move, and she can hear everything. The game thrusts you into a heart-racing race against time as you only have five days to escape this terror-infused institution.
This isn't just another run-of-the-mill gun game. No, Evil Nun Schools Out presents you with an intriguingly sinister challenge - solve puzzles to unlock the main door while avoiding the menacing presence of the Evil Nun. But remember – be quiet! Every little sound could be your undoing.
The atmosphere is thick with suspense and horror, with the game's design perfectly capturing the eerie silence that descends upon a deserted school after hours. The creaking floorboards, the echoing footsteps, the chilling sensation that someone's always watching... these are elements expertly woven into this compelling experience.
Evil Nun Schools Out strikes a unique balance between puzzle-solving and action gameplay, wrapped up in an immersive horror setting. The thrill of avoiding detection and solving complex puzzles under pressure is exhilarating, making this one of the standout escape games on the market. If you're looking for an intense gaming experience enriched with unrelenting tension and fear-inducing moments, then Evil Nun Schools Out is definitely worth exploring.
What are the best online games?