Evading The Police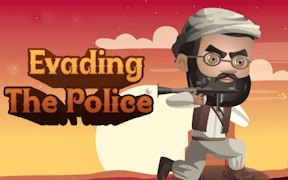 Evading The Police
Description
In Evading The Police, you are thrust into a thrilling cityscape chase sequence, playing the role of a fugitive. Your aim is to escape the relentless police pursuit, relying on your quick reactions and agility. The game features an engaging storyline, and fluid game mechanics add to the exhilarating experience. Wrapped in vibrant graphics, this online game brings an action-packed escape journey like you've never seen before.
How to play
The controls for Evading The Police are simple yet challenging to master. Use your keyboard's arrow keys or swipe controls for mobile devices to move your character. Run swiftly, jump over obstacles, and skilfully hide from view to elude capture. Progress in the game by outpacing the police force for as long as possible in this adrenaline-fuelled chase!
Tips and Tricks
In Evading The Police, timing is crucial. Make sure you time your jumps perfectly to avoid obstacles effectively. Keep an eye on upcoming hiding places and use them wisely to stay out of sight. Remember, the longer you evade, the tougher it gets as the police speed up over time!
Features
Immersive gaming experience: Enjoy a thrilling chase sequence set in a stunning city environment.
Slick controls: Easy-to-use controls that require skill to master.
Spectacular Graphics: Quality visuals providing an appealing gaming atmosphere.
Addictive Gameplay: Challenge yourself with progressively increasing difficulty levels.
What are the best online games?