Police Traffic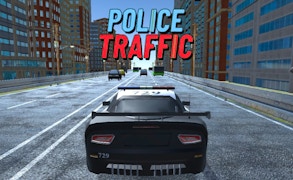 Police Traffic
Rev up your engines and immerse yourself in the fast-paced adrenaline rush that is Police Traffic, one of the most engaging driving games currently available. This game combines the high-octane thrill of racing with the action-packed excitement of police games. One thing is for sure; you can't help but be caught up in its electrifying speed chase drama.
Police Traffic offers an astonishing array of four game modes that taps into every aspect of your driving prowess. Whether you're navigating treacherous city landscapes, involved in high-speed pursuits, or adroitly manoeuvring through heavy traffic, this game ensures hours of unending fun and intense concentration.
This game doesn't just stop at standard pursuits; it brings an extra layer of depth by providing you with eight different police cars to choose from. Each car boasts distinct dynamics and handling, giving gamers the chance to explore a variety of driving experiences on diverse terrains.
The aesthetics of Police Traffic stand out as well. The graphics are commendably good, capable of drawing players in with excellent detailing and realistic visual effects. As a result, immerse yourself in vivid, lifelike settings as you roar down bustling streets or dart around tight corners to apprehend evasive culprits.
In conclusion, Police Traffic is a dynamic blend of racing and police chase that fully captures every essence of driving games. It delivers an exciting and gratifying gaming experience that makes it a must-play for all fans of exhilarating fast-paced action. So fasten your seatbelts as this journey promises nothing short of heart-pumping entertainment!
What are the best online games?