Escape Heroes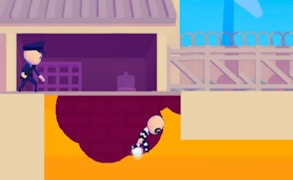 Escape Heroes
Prepare to venture into the electrifying world of Escape Heroes, an adrenaline-fueled rollercoaster in the realm of escape games. This game will test your mettle, quick decision-making skills, and strategy to escape from unexpected traps and overcome tricky obstacles.
The thrill that this game brings to the table is like a fresh gust of air in the expansive genre of Action. It is woven with intricate detail, fast-paced gameplay, and unpredictable surprises that solidify its position among top-ranking running games. It encapsulates you in a gripping narrative where you are the protagonist - You are the Hero!
Treading through each level, you will find yourself immersed in this riveting ride. The combination of brainstorming, digging for escape routes, and swift reactions is what sets Escape Heroes apart from other Hyper Casual Games. Every level presents a new set of challenges, with each trap more cunning than the last. The exhilarating feeling of breaking free breathes life into this game's appeal.
The biggest pull of Escape Heroes is its compelling 'run-for-your-life' dynamic. Your survival hinges on split-second decisions and innovative problem-solving strategies. Players will love how Escape Heroes tip-toes on the fine line between strategic planning and spontaneous reactions, forcing them to think on their feet while making that much-needed dash for freedom.
In a nutshell, Escape Heroes is an exhilarating blend of fast-paced action and shrewd strategy making it one of the must-play escape games currently available for true fans. So arm yourself with audacity and quick-thinking because your hero's journey awaits you.
What are the best online games?