Escape from Blue Monster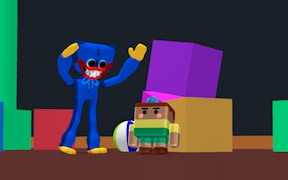 Escape from Blue Monster
Immerse yourself in the thrilling world of Escape from Blue Monster, the latest addition in the realm of adventure monster games. This game doesn't merely challenge your gaming skills, rather it tests your survival instinct in the face of imminent danger.
The heart-pounding adventure sets off with a huge Blue Monster hot on your heels, all set to snare you into its grisly embrace. Equipped with sharp teeth that could send shivers down the bravest of hearts, this monster isn't something you'd want to get close to.
This riveting blend of escape games and skill games demands both your strategic prowess and nimble reflexes. As you dodge threats and escape perilous snares, collect food and keep yourself fortified for the battles ahead. But beware! Run-ins with large balls are equally perilous as they delay your escape from the relentless blue monster.
However, survival is not enough; you must also strategize. The in-game store offers a range of instruments such as bombs capable of blasting away obstructions and stun devices potent enough to paralyze the horrifying Blue Monster momentarily.
The game levels up its thrill quotient with an extraordinary 'rage knife' mechanic. Once armed with this formidable weapon, players become invincible temporarily, slicing through any impediment on their escape route—including the dreaded Blue Monster!
Escape from Blue Monster, quite emblematizes survival games' adrenaline-rushing fear factor coupled with strategic game-play that demands swift decisions under duress. A must-play for anyone seeking to test their mettle against ferocious monsters in an enthralling adventure that guarantees an unforgettable gaming experience.
What are the best online games?