Escape from Aztec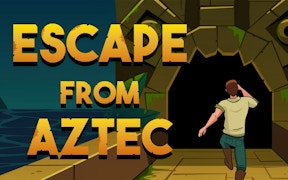 Escape from Aztec
Welcome to the adrenaline-pumping realm of Escape from Aztec, a blockbuster in the thrilling genre of action games. This upper echelon game is for those who thrive on fast-paced, nerve-jangling excitement. It's a heart-stopper that perfectly merges elements of running games, skill games, and escape games.
The game thrusts you into an exhilarating scenario where you've just stolen King Aztec's priceless treasure, and now you're being hunted. Your task is to run – faster than you've ever run before. Your heartbeat matches your rapid footfalls, echoing in the eerie silence of the ancient civilization. You're not just running for fun – your life depends on it.
In Escape from Aztec, your reflexes are your lifeline. Zigzag between ominous tree trunks and dodge hulking boulders that block your path. Leap over ancient ruins and slide under low obstacles, all while maintaining the relentless pace. The gameplay takes ebb and flow to the extreme, demanding nimble movements and split-second decisions.
This isn't just about survival though; it's also about loot! As you sprint through this mysterious landscape, you'll collect treasures that allow you to buy useful power-ups. Consider strategic purchases a bonus round in this high-stakes escape.
In summary, Escape from Aztec offers players a breathless blend of action and strategy wrapped in visually stunning graphics. Each hurdle ramps up the difficulty level affording an undeniably exciting gaming experience that will keep players captivated for hours on end.
If action-packed adventures featuring swift maneuvering around obstacles, all while unlocking power-ups sound like your kind of thrill - then this game is a must. Brace yourself for a wild ride – King Aztec isn't one to lose easily!
What are the best online games?