Drop Guys: Knockout Tournament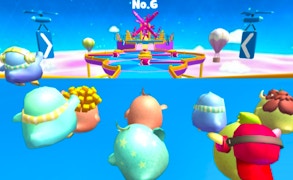 Drop Guys: Knockout Tournament
Are you a fan of animal games? Do you find excitement in daredevil escape games? Are infectious laughter and delightful fun synonymous to your ideal fun games? If you are nodding in agreement, then brace yourself for a thrilling adventure with 'Drop Guys: Knockout Tournament'.
Drop Guys: Knockout Tournament is not just another run-of-the-mill multiplayer racing game. It combines the heart-racing thrill of running games with the spectacled hilarity of adorable chicks vying for the champion's title. Picture yourself as an endearing chick sprinting amidst a flurry of feathers and chirps, running the race of its lifetime!
The game is as diverse as it is fun, offering an array of fascinating modes that cater to diverse gaming tastes. Whether it's about outsmarting your competitors in clever escape races or out-running them in high-speed chases, Drop Guys leaves no stone unturned in ensuring sheer fun at every step.
The charm of Drop Guys doesn't end there. Winning isn't merely about being the fastest, it's equally about being the smartest! It isn't just a game; it's a riotous festival where speed meets strategy and hilarity ensues as you outmaneuver your feathered fellows to come out on top. And yes, while the mantra is 'every chick for itself', team spirit and camaraderie inevitably shine through in this fantastic multiplayer experience.
In conclusion, Drop Guys: Knockout Tournament, with its delightful blend of cute animal avatars, captivating gameplay mechanics and competitive ethos, stands tall among other animal games. If you're on the lookout for fast-paced fun coupled with strategic thinking - Drop Guys should be your next gaming destination!
What are the best online games?