Draw and Destroy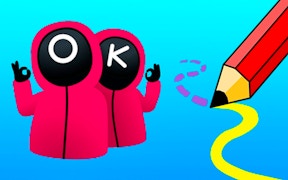 Draw and Destroy
Get ready to immerse yourself in the intoxicating realm of Draw and Destroy, a unique fusion of battle games, gun games, and drawing games that redefine the very fabric of Action gaming. This enticing concoction merges cerebral strategy with heart-pumping action, injecting a fresh spin into the world of Skill Games.
At first glance, Draw and Destroy might look like your average run-of-the-mill game, but it's so much more than that. Here you're not just shooting aimlessly—you're charting courses, setting trajectories, and literally drawing your path to victory. This is not only a game for those itching for gun battles; it's a platform for budding strategists and creative thinkers.
Lured by the adrenaline surge of battle games? Brace yourself for a ride that's certainly not short on action. The battlefield is fraught with challenges that will put your skills to the ultimate test. But don't worry! You don't have to face them weaponless; you'll have an impressive arsenal at your disposal to destroy all enemies.
If you are enthralled by the thrill of traditional gun games, prepare for something even bigger. Armed with not only guns but also your wit, navigate through intense battlefield drama by drawing flight paths that steer clear from obstacles while targeting foes.
The brilliance of this game lies in its novel blend with elements of drawing games. As you draw intricate paths for your weapons to follow, you'll also be amassing coins - a valuable currency that lets you buy newer, deadlier weapons.
In conclusion, Draw and Destroy pushes the boundaries of interactive gaming. It brilliantly merges elements from beloved genres - battle games, gun games, drawing games into one cohesive and riveting package.This truly is an electrifying addition to the realm of Skill Games.
What are the best online games?