Doodieman Bazooka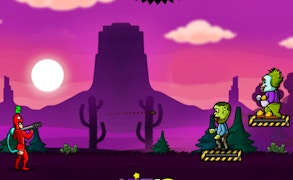 Doodieman Bazooka
Get ready to embark on an audacious and playful adventure with the Doodieman Bazooka, forcing you to push your gaming skills to new heights. This exhilarating action-packed game, available for free at kiz10.com, combines the best elements of battle games, zombie games, and monster games, all wrapped up into one of the most fun-filled gaming experiences.
This quirky journey revolves around everyone's offbeat hero, Doodieman, who doesn't fail to amuse with his sticky projectiles. The very premise of the game hints at non-stop laughs and loads of whimsical fun while battling zombies and monsters. The challenge lies in helping him aim accurately and fire away against formidable opponents that makes it not just one of those typical fun games, but a truly engaging one that's hard to put down.
The graphics are an absolute treat, as they are detailed yet light-hearted - perfectly complementing the amusing nature of the game. The soundtrack is catchy and uplifting, further adding to its enjoyability factor.
Moreover, each level in Doodieman Bazooka offers unique challenges. The anticipation of what's next keeps you glued to your screen as you steer this lovable character through his chaotic world. This creates an immersive experience that captures your attention from beginning to end.
In conclusion, if you're looking for a game that combines hilarity with action-packed gameplay, then look no further than Doodieman Bazooka. This isn't just another game; it's a roller-coaster ride full of laughter, challenges and lots of sticky situations! Get ready for hours of entertainment – this is what gaming should always feel like!
What are the best online games?