Dodge The Tower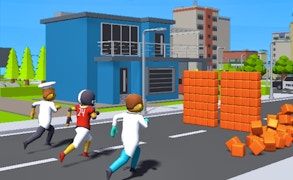 Dodge The Tower
If you love the thrill of non-stop action, then you're in for a treat with the latest addition to the running games genre - Dodge The Tower. This high-octane, fast-paced game effortlessly blends elements of skill and strategy, solidifying its place amongst top-tier Skill Games.
In this fun, addictive, hyper-casual game, the objective is simple yet challenging: jump off towering structures and race to finish! The game tests your agility and accuracy as you navigate through a series of increasingly complex towers. But that's not all - Dodge The Tower cleverly incorporates power-ups along the way to enhance your gaming experience. These can potentially boost your speed or temporarily immobilize your opponents.
The fundamental allure of Dodge The Tower lies in its precise balance between simplicity and complexity. It's easy enough for beginners to pick up and play but offers enough depth for even seasoned gamers to sink their teeth into. From adjusting your jump trajectory to timing when to activate power-ups, every small decision can significantly impact your performance.
Graphic-wise, Dodge The Tower doesn't disappoint either. Each level is visually stunning with varied environments that makes each tower jump more intriguing than the last. Sound effects and background music are well-done, adding an extra layer of immersion.
In conclusion, Dodge The Tower is a thrilling addition to the action-packed world of running games. Whether you're looking for a quick gaming fix or a new challenge in Skill Games, this title promises hours of exhilaration. Get ready to leap into action and experience the rush of racing through towering structures on your quest for victory.
What are the best online games?
Tags