Dinasaur Hunt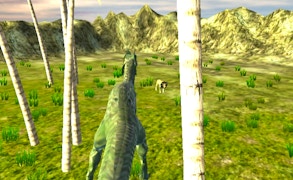 Dinasaur Hunt
Revel in the primal thrill of the hunt with Dinosaur Hunt, a pulse-pounding entry into the world of action-packed hunting games that effortlessly combines elements of animal and dinosaur games into a singularly thrilling experience.
As you set foot in an ancient forest, teeming with prehistoric life, your primary objective is to stalk and hunt small dinosaurs or other animals, making them your prey. This isn't just a straightforward hunting game; Dinosaur Hunt commands a deep understanding of the predators and prey from our planet's distant past. It invites you to think like them, move like them, and ultimately, outsmart them. Remember - they can sense your presence; they can smell you. So tact and precision must be your closest allies.
Leaning heavily into realism, one false move can mean the difference between being the hunter or the hunted. The game implores you not to make unnecessary noise when readying for the kill – an immersive detail that lifts this game head and shoulders above its competition in dinosaur hunting games.
Gameplay is intuitive with standard WASD or Arrow keys controlling player movement while pressing 'E' allows you to feast on your hard-earned capture. But it's not just about mastering controls - Dinosaur Hunt challenges your strategic instincts too.
Enhanced by bone-chilling sound effects that transport you back millions of years, this game will drive you wild with its exhilarating blend of tension and release. The sounds alone will have you clamoring to play again - each roar, growl and rustle bringing this bygone era back to life right before your ears.
To sum it up, Dinosaur Hunt is a must-play for fans of hunting games, animal games, and dinosaur games alike. Its enthralling gameplay captures the essence of what it might have been like to stalk Earth's earliest inhabitants, providing an adrenaline-filled journey worth taking.
What are the best online games?