Diamond Colors Art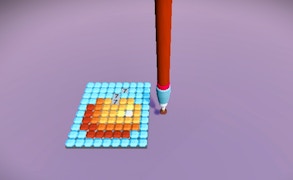 Diamond Colors Art
Immerse yourself in the world of dazzling gems and vibrant hues with Diamond Colors Art, a delightful fusion of drawing games, jewel games, and coloring games designed to engage the creativity of young minds. This ingeniously crafted game, tailored for kids, brings the charm of numbered coloring to a whole new level, making it an exciting addition to Games for Kids.
Fans of number games will be swept away by the concept; just match the diamond's number with its designated space on the canvas and watch as your masterpiece starts to take shape. With each level, you'll find yourself bestowed with intricate pictures and ever-increasing colored diamonds that challenge your skills while also nurturing your artistic abilities.
The gallery invites you to explore 101 diverse pictures; a treasure trove waiting for discovery. From simplistic patterns perfect for beginners, to complex artworks ready to captivate seasoned players - there's something for everyone in this diamond-studded palette of creativity.
Diamond Colors Art is not just another drawing game - it presents a captivating combination of fun and learning. It teaches children the nuances of colors, enhances hand-eye coordination, develops number recognition skills – all while keeping them engrossed in an endearing art adventure.
The mesmerizing sparkle of jewels enthralling combined with numbers will draw both children and adults alike into this unique world of artistry. Unleash your inner artist with Diamond Colors Art – a definitive gem in the crowded universe of Kids' Puzzle Games. Leave behind the monotonous coloring books – step into a realm where painting meets gaming and creativity knows no bounds.
What are the best online games?