Destroy the Village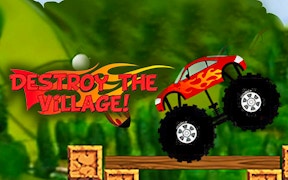 Destroy the Village
Get ready to immerse yourself in the thrill-a-minute world of Destroy the Village, a standout title in the landscape of action-packed flying games. This gripping game, with its top-tier blend of skill testing and addictively enjoyable gameplay, is sure to keep you on your toes with its series of high-stakes aerial battles.
The game boasts an impressive array of 24 levels, including the adrenaline-pumping boss-levels that elevate the challenge to a whole new level. Each level is a well-crafted puzzle, jam-packed with diverse types of walls, cars, mechanisms and obstacles that will test your vigilance and reflexes.
Adding another layer to this action-infused flying game is its selection of 4 types of rockets. Each rocket comes with its unique set of properties - speed, fuel, power - adding depth to your battle strategy as you maneuver through dynamic terrains and enemy fire.
The real core of Destroy the Village lies in its skill-based mechanics. It's not just about mindless destruction; it's a game where precision and planning matter. The exhilarating rush one gets when perfectly timing a missile launch to obliterate an enemy base is unmatched—making it one of the most rewarding skill games out there.
In sum, Destroy the Village stands tall among other flying games with its ingenious blend of strategic depth and action-packed gameplay that keep players engrossed for hours on end. If you are hunting for addictive games that offer a genuine challenge while being fun at every turn, then this hidden gem is a must-play!
What are the best online games?