Demon Raid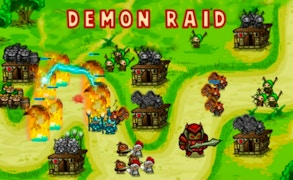 Demon Raid
Embark on a thrilling journey through a realm filled with magic in Demon Raid, a pulse-pounding addition to the landscape of battle games and monster games. Amidst the fluttering banners of human kingdoms, an ominous portal opens, spewing forth legions of demons dead set on wreaking havoc and destruction. This intense game entices you into a breathtaking world where wielding swords, constructing formidable defences, and commanding armies of knights is commonplace in the life-or-death struggle against demonic forces.
The game design elegantly combines aspects of popular knight games and sword games within an immersive storyline, where every decision can tip the balance in this ceaseless war between good and evil. Your primary mission is not just to survive but to protect your kingdom's capital city from being overrun by demonic hordes.
The battlefield sprawls out in front of you - a testing ground for your strategic prowess. Identifying strategically crucial locations along the invaders' path is essential as players continue their foray into this captivating genre of war games. Defense towers and structures are your line of defense against the relentless tide of demons. As you dive deeper into this thrilling strategy game, you'll quickly realize that its essence draws heavily from classic building games and archery games.
You start with a few basic defenses but swiftly gain points for each demon you defeat. With these points comes advancement: upgrading your towers, fortifying your structures, and building new defenses as the risk escalates with each wave of demons storming towards your city gates.
Demon Raid is an exciting fusion of multiple game genres which successfully delivers an unforgettable gaming experience that will intrigue any fan of battle, monster, knight, sword, war, building or archery games!
What are the best online games?