Deko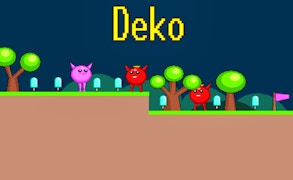 Deko
Description
In Deko, gamers navigate a colourful and engaging 2D world, brimming with animate obstacles, dangerous spikes, terrifying saws and perilous monsters. Your mission in this splendid arcade escape platform game is to retrieve the delicious ice cream and reach the end point - the pink flag - while navigating through increasing stages of difficulty across 8 unique levels.
How to play
Control your avatar using either the "WASD" keys or "Arrow" keys on your keyboard. To overcome tall obstacles or dodge sudden threats, utilise the double jump feature by pressing the "W" key or the "Up Arrow". Your ultimate goal is to reach the pink flag at each level's end.
Tips and Tricks
Mastering the timing for double jumps is vital for survival. Keep an eye out for moving platforms as they might lead you to secret areas or provide a safe passage over spikes and saws. Always remember, frequent movement keeps you safe from possible enemy spawns.
Features
Vibrant 2D world filled with immersive gameplay mechanics.
The game consists of 8 diverse levels which increase in difficulty as you progress.
Precise double jump control allows players to skilfully avoid obstacles and dangers.
Unique obstacles like animated monsters, deadly spikes and saws add variety to gameplay and challenge players' skills differently on each level.
An end-goal of reaching a pink flag offers a clearly defined endpoint for each level, providing players with a sense of direction and achievement.
What are the best online games?