Defend The Tank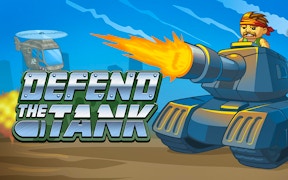 Defend The Tank
Welcome to an exhilarating review of the game that is redefining gun games, tank games, and war games: Defend The Tank.
Defend The Tank thrusts you into the heat of battle, where your strategic wit is your most potent weapon. You are bestowed with the power and responsibility to control an indomitable team of soldiers, crafting a front-line defense around your tank. This isn't just about placing soldiers; it's about understanding the battlefield, predicting enemy movements, and creating a strategic masterpiece. This game elevates the traditional war games experience to a new level.
The game becomes intensely riveting as you rotate your soldiers, calculating optimal positions to inflict maximum carnage on enemy ranks. It's not just about brute strength – it's a blend of strategy and power that makes this one of the most compelling gun games on the market.
Our favorite feature? The innovative mechanic soldiers, healers in a world marked by destruction. As you navigate through unlimited waves of enemies, these mechanics work tirelessly to keep your tank in prime fighting condition, adding a captivating layer of strategy to the gameplay.
The incentive for victory comes in the form of valuable coins – virtual spoils of war that allow you to upgrade your tank after each successful engagement. And with unique soldier classes waiting to be unlocked, such as infantrymen, rocket men, and machine gunners - every battle feels fresh!
In conclusion, Defend The Tank is a must-play for any action gaming aficionado. Its unique blend of strategy and action creates an immersive experience unlike any other in the realm of tank games or warfare games. So gear up soldier - it's time for battle!
What are the best online games?
TAGS