Deep Sea Run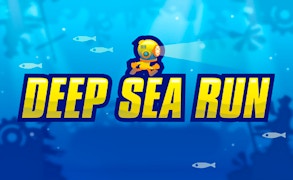 Deep Sea Run
Description
In Deep Sea Run, you are in for a delightful treat of racing fun! This game transforms an ordinary run into an extraordinary underwater adventure. With its engaging flip-gravity mechanics, the game is sure to keep you on your toes. Dodge dangerous sea creatures and revel in the aquatic spectacle as you dive deeper into the endless depths of this thrilling marine world. Perfect for all age groups, families will find it especially entertaining!
How to Play
To play, simply use your keyboard's arrow keys to navigate. The up arrow enables you to switch gravity and swim upside down, adding a unique twist to the gameplay. Avoid colliding with enemies and obstacles that approach you as you race through the underwater course. The longer your run, the higher your score. Keep track of your progress at all times!
Tips and Tricks
To succeed in Deep Sea Run, timing is crucial! Be alert and quick to switch gravity when needed to dodge approaching threats. Collect game power-ups as they can significantly increase your score or provide a temporary shield against enemies. Remember, practice makes perfect!
Features
Riveting flip-gravity mechanics that intensify gameplay.
A variety of underwater enemies to make the race more challenging.
Addictive endless runner style that keeps players engaged for hours.
Suitable for players of all ages, making it a perfect family game.
Vivid graphics that beautifully depict an underwater adventure.
What are the best online games?