Deadswitch 3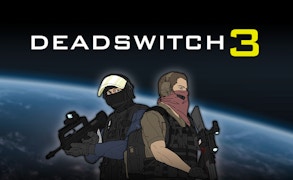 Deadswitch 3
Description
Step into the thrilling world of Deadswitch 3, an adrenaline-fueled 2D multiplayer shooter that keeps you on your toes. The game features an array of diverse game modes to give unique experiences every time. With a cache of weapons at your disposal and a variety of maps, strategic combat is at its finest in this masterfully designed shooting game.
How to Play
To navigate the battlefield, use the WASD keys. The Left Mouse Button allows you to shoot while the R key is used for reloading ammunition. You can switch between weapons using the number keys. Progress in the game by surviving waves of enemies and scoring higher points.
Tips and Tricks
Familiarize yourself with all weapons and be intricate with your shooting strategy. Always keep moving to avoid getting cornered by enemies. Utilize surroundings effectively to take cover and take down enemies smartly using stealth tactics.
Features
Intense multiplayer action with various game modes
Diverse range of potent firearms
Variety of engaging maps for strategic gameplay
Innovative gameplay mechanics for realistic shooting experience
What are the best online games?