DEADSHOT.io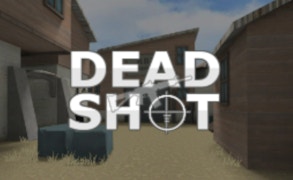 DEADSHOT.io
Being called a "Deadshot" says a lot about your marksman skills and people are trying to prove they deserve it digitally with games like Deadshot io. It's a traditional FPS setup where you and a number of other players are competing and shooting at each other. Depending on what the objective is, your strategy and gameplay style can change, but you're always fighting to stay alive so that you can stay in the game or help your team. By putting enough time into the conflict, you may earn the title of Deadshot.
About Deadshot io
A majority of modern-day competitive FPS games can look back to Counterstrike and Team Fortress 2 for providing a foundation. With this game being an io, it provides a quick way to jump into a similar experience. The graphics and controls may not be as extensive as the bigger titles, but the response is sharp and the controls are tight which are the most important elements. You can win just as quickly as you can lose, but it's designed to keep downtime short so that you jump right back into the fight. It works well for short matches either with friends or on your own.
How to Play
Deadshot io is an online FPS competitive game controlled with the mouse and keyboard. It appears to offer the option of controlling mostly with the keyboard, but the mouse makes things much easier to handle.
Controls
Cursor - Look/Aim
Left Mouse Button - Fire
Right Mouse Button - Precise Aim
W - Move Forward
S - Move Backward
A - Move Left
D - Move Right
Spacebar - Jump
Shift - Slide
C – Crouch
The goal will change based on the game mode, but overall you want to stay alive while eliminating other players. Each player has the same amount of hit points displayed above their body. Your health will drop when you take damage but will regenerate after a few moments of avoiding attack. When your health drops to zero you'll have the chance to quit or respawn in a specific area of the map after a few seconds.

Before you start each match you'll have the chance to decide your class via your weapon. For a close-range class, the weapons you can choose from are Pistols, SMGs, and Shotguns. For mid-range, you can select an Assault Rifle. For long-range, there's the Sniper Rifle. Each one is tailored to a different play style and differs in terms of damage, ammo capacity, firing, and reload speed. If you're unhappy with your current selection, you can change your chance during respawn time.

On the main menu, you can visit the Shop to buy new weapons and cosmetics for your soldier. All of your gear will be stored in your Locker. It should be noted, however, that you'll only get access to those features by creating and logging into your account.
Tips and Tricks
Like with other competitive FPS games, you'll want a nice balance between speed and accuracy. When hunting down other players, try to avoid trapping yourself in restrictive pathways with no cover. Having to reload while in a firefight can put you at a huge disadvantage so make every shot count.
Deadshot io Game Modes and Maps
There are currently six game modes available to play.
Free-for-All - A standard deathmatch where everyone is against everyone else.
Team Deathmatch - Team up with other players to get the most kills against other teams.
Domination - Fight to control designated points scattered around the map to earn points.
Hardpoint - Hunt to control a point that keeps changing its position.
Kill Confirmed - A different take on deathmatch by tasking you with collecting the tags of the players you kill.
Team Kill Confirmed - Team up with other players to kill and collect the tags of opponents.
There are also four maps from which to select.

Factory - A collection of structures and buildings close together.
Refinery - A large facility with lots of corridors and levels.
Snowfall - A series of scattered buildings among snow-covered fields.
Forest - A dense forest with slopes and caves to traverse.
Game Details
Developer: GoalieSave25
Platforms: Web Browser (PC and mobile)
Languages: English
Gameplay Footage
FAQs
Is Deadshot io free to play?
The game is currently free to play within your Web Browser with or without creating an account.
Games similar to Deadshot io
Being a multiplayer FPS io game, this title can be found in the FPS and Battle Games categories on GamePix. You've also got Dead Zed, Hunters And Props, Time Shooter, and Super Tornado io.
What are the best online games?