Dead Zed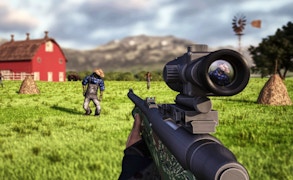 Dead Zed
Get ready to dive into a thrill-filled world of gripping tension and heart-racing action with Dead Zed, one of the most captivating gun games currently dominating the gaming market. An exquisite entrant in the realm of zombie games, Dead Zed will keep you on your toes as you navigate a post-apocalyptic dystopia riddled with peril and daunting challenges.
Much more than just your typical shooter, Dead Zed effectively blends elements of battle games and survival games. It's not just about shooting; it's about tactically managing resources, developing strategies, and mastering a range of impressive weaponry to ensure your survival. As you tread through this nightmare of a world, every bullet counts and every decision has consequences.
This game takes sniper games to an unprecedented level. Aim, breathe, shoot - precision and patience are your best friends in this sniper's paradise. Combining the thrill of gun play with the strategic elements of survival, Dead Zed morphs into a unique gaming experience that challenges both your dexterity and tactical prowess.
The game further distinguishes itself by adding unique layers to gameplay; forming search parties for survivors or new weapons adds depth to the narrative while maintaining sleek gunplay mechanics. Maintain your safehouse: repair damages, bolster defenses and manage your group's responsibilities. These additions make Dead Zed stand out as an immersive shooter that beautifully balances strategy with action.
In conclusion, if you're craving a thrilling mix of action, strategy, and suspense, look no further than Dead Zed. From top-notch gun mechanics to intricate survival strategies amidst zombie outcroppings - this game offers everything you need for an exhilarating gaming session that will leave you craving for more.
What are the best online games?