Dead Target Shoot Zombies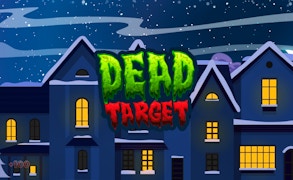 Dead Target Shoot Zombies
Description
In Dead Target Shoot Zombies, you find yourself in a zombie-infested world, armed with only your own bravado and trusty weapons to keep the undead menace at bay. You can feel the tension and danger lurking at every corner as you strive to stay alive. The gameplay involves intense battles against marauding zombie hordes, scoring points to level-up your weaponry and keep escalating the fight.
How to play
The game's controls are straightforward yet offer a deep tactical layer. Tap on the screen for aiming at your undead opponents and swipe to control your viewpoint. Your weapons fire automatically when a zombie is in sight allowing you to focus on choosing your targets wisely. Progression involves eliminating more zombies, earning points, and using those points to upgrade your weaponry.
Tips and Tricks
Zombies can appear en masse from any direction, so be sure to keep moving! Focusing down more powerful zombies first can help manage the crowds. Accumulate your points wisely and prioritize weapon upgrades which offer greater firepower or faster reload times. Remember, sometimes it's smarter to retreat and regroup than stand your ground against overwhelming odds.
Features
Thrilling Zombie Combat: Battle relentless waves of terrifying zombies.
Tactical Gameplay: Choose when to fight or retreat taking strategic decisions.
Weapon Upgrades: Earn points & upgrade weaponry for optimal offence.
Suspenseful Atmosphere: Immerse yourself in a chilling, post-apocalyptic environment rife with danger.
What are the best online games?