Darios Quest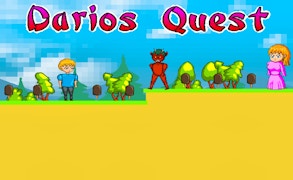 Darios Quest
Description
In Darios Quest, engage in a thrilling 2D platform adventure across 8 challenging levels. You play as a brave digitized hero on a mission to collect the scattered ice cream bars in each level, all while dodging dangerous objects and battling fearsome monsters. Your ultimate goal is to deliver these sweet treats to your girlfriend at the end of each level. The game becomes progressively harder, offering an exciting chase from start to finish.
How to play
To control your character, use the "WASD" keys or the "Arrow" keys for movement throughout the game world. To execute a double jump, simply press the "W" key or "Up" arrow twice in quick succession. Overcome obstacles and enemies while collecting all ice cream bars before reaching your girlfriend at each level's end.
Tips and Tricks
Remember to leverage your ability to double jump effectively—it could be crucial for avoiding enemies or reaching high platforms. Additionally, carefully observe the patterns of moving obstacles and monsters. Perfecting the timing of your movements and jumps can be the difference between victory and defeat.
Features
Immersive 2D platform gameplay with increasing difficulty levels.

A range of challenging obstacles and menacing opponents.

Addictive collection element with ice cream bars scattered through each level.

An interesting storyline with a unique objective: delivering ice cream bars for your girlfriend.
What are the best online games?