Cut Fruit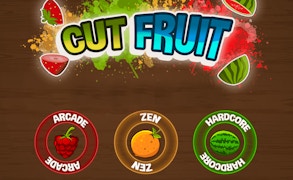 Cut Fruit
Description
In Cut_Fruit, you will step into the shoes of a skilled ninja with a sharp sword at your disposal. Your mission is to slice an array of juicy and fresh fruits flying mid-air. However, it's not as easy as it sounds, you will have to dodge harmful bombs in between. The fast-paced gameplay keeps you on the edge of your seat as you test your swiftness and precision.
How to play
The controls are straightforward - just move the mouse to guide your sword and click to slice the fruits. Be careful of the bombs that can harm your character. The game has two modes: arcade and game mode. In arcade mode, you have a set time limit to cut as many fruits while in game mode, you ought to complete specific tasks. If three fruits are missed, you have to start anew.
Tips and Tricks
Avoid slicing bombs at all costs as they deduct points from your score. Always keep an eye on the screen to not miss any fruit. In the game mode, focus more on completing tasks rather than scoring points.
Features
Fresh and colorful graphics: The vibrant visuals make it more entertaining.
Two different modes: Arcade mode for endless gameplay and game mode for task-oriented play.
Simplistic controls: Easy-to-use mouse controls suitable for gamers of all age groups.
Addictive gameplay: Aim for high scores in this thrilling fruit-slicing challenge!
What are the best online games?