Cursed Treasure 2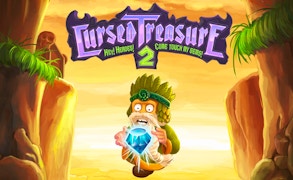 Cursed Treasure 2
Description
In Cursed Treasure 2, you play as a malevolent force in charge of safeguarding a trove of precious gems from incessant onslaughts of greedy heroes. Your mission is to erect relentless towers, upgrade them, call forth your demonic forces and cast devastating spells to thwart the enemies. This thrilling tower-defense game presents an intriguing twist by allowing you to explore the dark side of power fantasy.
How to play
Your primary task is to build towers, ideally along the paths, to obliterate the advancing heroes. Towers can be formed using the powers of orcs, demons, and undead. Don't forget to upgrade your structures and cast potent spells for maximum destruction. The game is controlled by mouse clicks; simply click on the target spots for building or upgrading towers and casting spells.
Tips and Tricks
To effectively repel heroes, focus on diversifying your tower types. Different enemies have varying vulnerabilities; hence a mix of tower capabilities will ensure no enemy goes unscathed. Cast spells frequently but strategically. Also, prioritize fortifying areas close to your gems as they are the ultimate target.
Features
An engaging twist on traditional tower-defense gameplay.
Three unique evil races (orcs, demons, undead) for diverse tower abilities.
Upgrade system for towers and magic spells.
Persistent level progress with save feature.
Detailed and immersive graphics with atmospheric sound effects.
What are the best online games?