Crowd Run 3D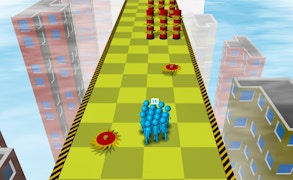 Crowd Run 3D
Unleash your inner gamer adrenaline with the phenomenal Crowd Run 3D, a game that perfectly blends the exhilarating thrills of running games, the calculated precision of skill games, and the heart-pounding tension of survival games. This title is your passport to an action-infused gaming spectacle like never before!
Packed with pulse-pounding gameplay, Crowd Run 3D challenges you to navigate through a swarm of opponents and perilous obstacles in a breath-taking, three-dimensional environment. It's more than just a journey; it's a test of your dexterity and quick thinking under pressure.
The game is set in an electrifying arena where every decision matters. Each game level ramps up the difficulty, challenging your strategy-making abilities and dexterity. The gameplay is intense, addictive, and full of unpredictable surprises - one wrong move and it's game over! But don't fret! With every failure comes a new opportunity to refine your skills and get further than before.
With its polish 3D graphics and fluid animations, Crowd Run 3D doesn't just play great - it looks awesome too! It's like having an action-packed blockbuster right at your fingertips. Plus, the smooth controls make it easy for anyone to jump in and start running.
Crowd Run 3D is not just another addition to the world of running games; it's an evolution – redefining what it means to be a skill-based survival game. Whether you're a die-hard fan of action-packed gaming or looking for a new challenge to conquer, Crowd Run 3D will push your gaming abilities to their limits.
What are the best online games?