Crazy Shark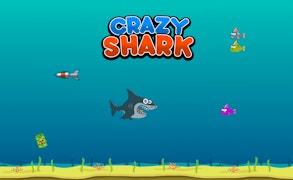 Crazy Shark
Description
In Crazy Shark, you dive into the adrenaline-pumped world of underwater action, playing as a shark with a craving for adventure and destruction. This captivating shooter arcade game sets you on a journey to explore ocean depths, devour fish, amass treasure, and engage in high-intensity battles against other underwater predators.
How to play
To navigate your shark through the treacherous ocean, use your arrow keys or joystick. Have your shark consume fish to gain strength and collect treasure for extra points. Aim and shoot your enemies using the fire button. Progress through different levels by eliminating all enemies and collecting enough treasures within a given timeframe.
Tips and Tricks
Stay on the move to avoid enemy fire and keep an eye out for treasure chests that offer bonus points. Strategically devour fish when health is low to regain vitality. Accurate aiming can result in quick enemy kills, advancing you swiftly through various stages.
Features
Engaging gameplay: Fast-paced action-packed levels with unique adversaries.
Creative storyline: You're a shark who's out on an adventurous quest!
Unique power-ups: Eat fish to regain health and find hidden treasures for extra perks.
Simplistic controls: Easy-to-learn controls suitable for players of all ages.
What are the best online games?